WELCOME TO ONESTOP REFINISHERS
"DON'T REMOVE IT … IMPROVE IT"
Don't remove it…Improve it!
Our company motto
And as you can see from our pictures, there's not much we can't improve on.
Be it a kitchen that needs bringing upto date or that awkward style bedroom furniture you just can't bring yourself to rip out, we can help.
We have over 10 years experience in on-site spraying and have completed over 7000 kitchens resprays…YES 7000!
Just some of the benefits of a respray over replacing:
---
COST


Our average respray can save you upto 80% on replacing.
---
GUARANTEE


All our work comes with a 5 year guarantee for peace of mind.
---
YOUR IN CHARGE


We work to your spec-We can match to ANYTHING so your not restricted to off- the-shelf, factory colours etc.
---
NATIONWIDE TRAVEL


We come to you, all you need to do so choose your colour.
---
NO WASTE


Not only is it good for your pocket, it's good for the environment too-there's no need to be sending that old kitchen to landfill, we can make it look like your existing one has just been fit brand new.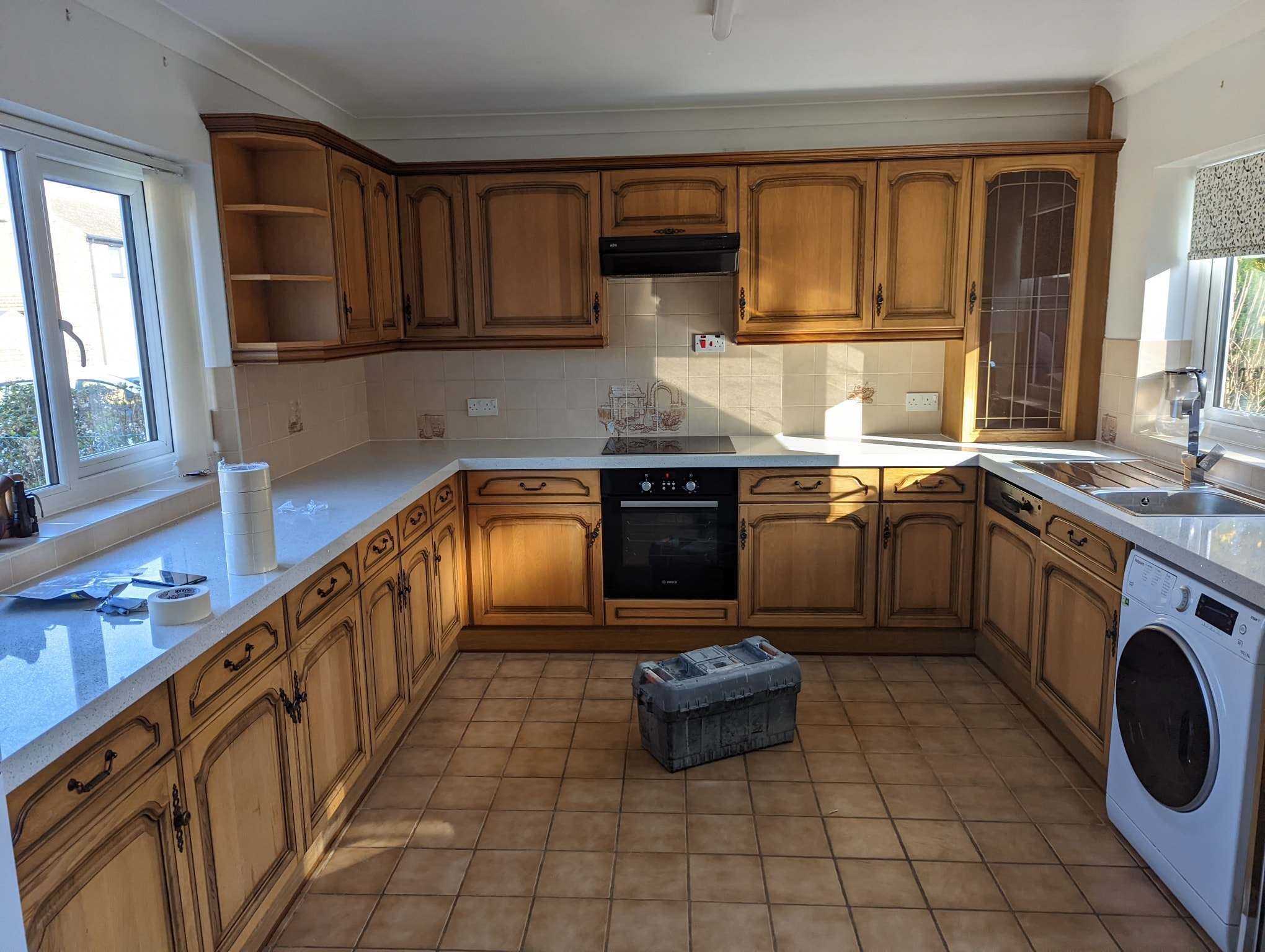 Great service from these very professional people. Our kitchen was bespoke and it although looked very tired we still loved it . We contacted this company and we were very impressed by their fast response to our inquiry. The whole process was stress free and the results was impressive, we didn't really expect it to look as good as it does. Would recommend to anyone looking for an affordable alternative to having new kitchen cupboard doors or a new kitchen.
★
★
★
★
★
What can I say! Looks like a new kitchen at a fraction of the price. Would go as far as to say looks amazing. For anyone thinking of a DIY kitchen repaint job - don't! It was so worthwhile getting the professionals in. In the run up to the day of the job they were very responsive to email - not so much to phone calls but when you see how hard they work to get the job done you can understand why. Overall a very professional service and a top quality job. Definitely recommend!
★
★
★
★
★
12 months on from using Onestop to repaint our kitchen cabinets and we are really pleased. The process of booking and then carrying out the work was efficient, considerate and hassle free. The job was neat, professional and the finish has turned out to be durable and stain resistant. Onestop are also great value for money. We could have spent 10k on a new kitchen. Instead we have a kitchen that looks as good as new for a fraction of the price. Would recommend.
★
★
★
★
★
We won a competition back in January to have our oak kitchen resprayed for half the price. We had it done a few weeks ago and it feels like we have a brand new kitchen! It makes it feel so much lighter and brighter and we are very pleased with the end result! One thing you have to be aware of though is the amount of dust the process makes. It took quite a few weeks to clean everything up, but it was so worth it! Thank you Onestop Refinishers!
★
★
★
★
★
All we need for an accurate & informative quote is a few pictures, your postcode & total number of doors & drawers.
You can send these to our email address below or alternatively you can fill in the contact form below and we will get in touch with you to discuss your options